How to Choose the Right Mobility Car for you
February 18, 2022
Choosing a mobility car is something that you need to get right. This is because a mobility car is a vehicle that you will be using daily for work, friends, and family commitments.
People don't tend to switch mobility cars very often, as they usually find the car they purchase is good to be used for many years.
If you are about to purchase your next mobility car, look no further as we have a guide on how to choose the right mobility car for you.
Set a Budget
A mobility car is an essential mode of transportation for your day-to-day needs. However, even though it is of high importance to get the right car for you, it shouldn't break the bank.
Before you purchase your first mobility vehicle, you need to have a clear budget in mind, so you know what you can afford and whether you are getting good value for your money for your vehicle.
Tip: Second-hand mobility cars are often kept in very good condition with low mileage. A lot of the time, buying a second-hand mobility vehicle is a really good option as some are on par with being in the same condition as brand new vehicles.
Look for Cars that are Tailored to your Needs
Every person who has a disability has different needs and requirements for a mobility car.
For instance, if you are a wheelchair user it is important to have a mobility car that is easy to get in and out of or even a car that allows you to sit in your wheelchair and drive.
If you are unable to accelerate or brake in your vehicle with your legs, you will need to look at cars that are adapted to be driven completely using your arms.
Marcus, The Disabled Reviewer has lots of informative videos on the types of cars which he finds as a wheelchair user easy to get in and out of.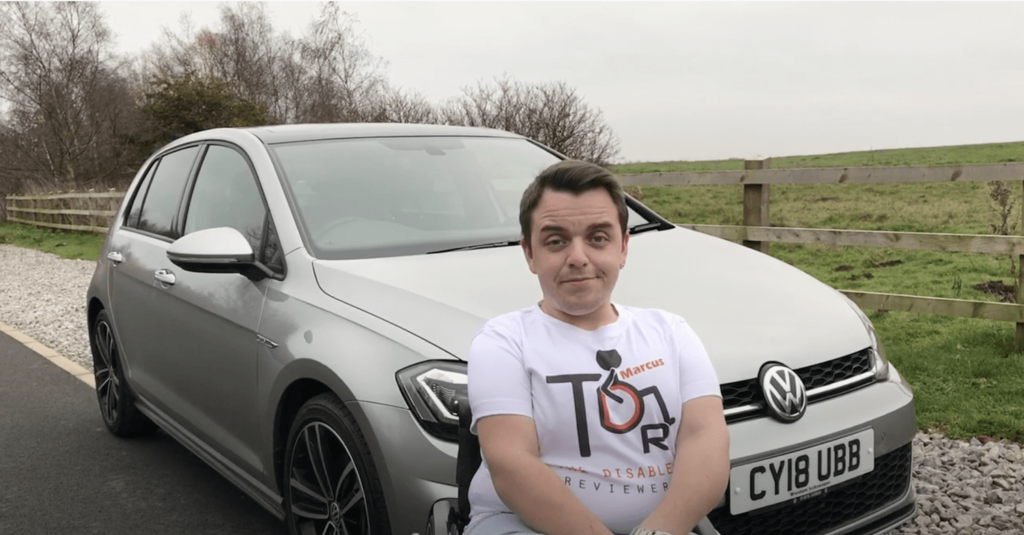 Tip: Cars with large boot spaces seem to make very good mobility cars. This is because a larger boot is able to accommodate lots of equipment which will make traveling a lot easier for you and your companions.
Is Specialist Equipment Required?
This is a question that may be one of the first questions that spring to mind when you are looking to purchase a mobility car. Most cars can be adapted and enhanced with specialist equipment that can suit your mobility needs and requirements.
Every individual will look for different types of specialist equipment in their cars, here are some examples of types of equipment that can be included in mobility cars:
Electric seats which can easily be adjusted
Electric rear doors to enter the car if required
Voice command, to make it easy to use the in-car functions
Foldable seats for extra storage room in the rear of the vehicle
Removable front seats, so someone in a wheelchair can drive whilst they sit in their wheelchair.
Rear and front parking sensors and cameras, to help with parking the vehicle
Does the vehicle have a ramp attachment? (if applicable)
Look for Running Costs of the Vehicle
When you are about to buy a mobility car, it is important to think about the fuel consumption of the vehicle you are going to be driving on a regular basis.
It is a good idea to compare the Miles Per Gallon (MPG) figures of the vehicles you're interested in order to help you get an estimate of how economical the car is and whether it is cheap to run or whether it is likely to cost you a considerable amount of money to drive around in it, luckily many online listings of cars have realistic MPG displayed in their descriptions.
Who Will be Driving the Car?
When someone has a mobility car, even though the car is designed to be used for transportation for someone who has a disability, it doesn't always mean that they themself will be driving the car.
Many carers of a disabled individual drive the car, so it is important to know whether a mobility car is ideal to be driven by a carer.
Look for Models of Cars that have a High Rating for Mobility Users
It is always a good idea to research makes and models of cars which are mobility friendly. Usually, cars such as the Ford EcoSport and the Vauxhall Mokka make great mobility cars because they are spacious and easy to get in and out of.
Can you Get Electric Mobility Cars?
Yes, there are electric cars that are ideal for mobility users on the market. Even a smaller sized estate car can be used as a mobility car, it just depends on the person's needs and requirements of a mobility vehicle.
For those who are interested in the latest technology in cars, you may want to consider driving a hybrid or electric mobility vehicle. This is because hybrid and electric cars are pretty much the latest technology in cars and electric cars are known for usually being cheaper to run than fuel alternative vehicles and better for the environment, so this is something to consider when looking out for a mobility car to purchase.
Mobility Car Tick List
When you are searching for a mobility car, it may be a good idea to keep a checklist handy so you can keep in mind the sorts of things you are looking for in a mobility car, here is our checklist.
✓ Does the car meet my needs and requirements for day to day travel?
✓ Is the fuel economy of the car sufficient?
✓ Is the car easy to get in and out of?
✓ Is the car ideal to be used by wheelchair users? (if applicable)
✓ Is the car comfortable to drive?
✓ Am I able to use all the equipment inside the car safely and efficiently?
✓ Is the car easy for me to park?
About Motability
Motability is a largely recognised scheme in the UK that helps people with a disability lease a car, scooter, powered wheelchair or wheelchair.
The Motability scheme is funded by a person's travel expenses benefit. Depending on the rate of pay you get for travel will depend on the budget you have to spend on a vehicle which is supplied by Motability.
The leasing duration of a Motability vehicle is usually 3 years, so every 3 years you can pick out a brand new vehicle.
The Motability leasing scheme also includes MOT, servicing and car insurance, so people on the Motability scheme are well looked after.
Do I get to pick out my own Motability car?
Yes, like a person who is intending to purchase their own car, you can go into a car dealership and pick out a car which will be paid for by Motability. You just need to be aware of the car dealerships that offer the Motability scheme (which is most) and you need to know how much your Motability budget covers the cost of a car from the dealership.
Am I Eligible for the Motability Scheme?
According to Motability.co.uk, in order to be eligible for the Motability Scheme, you need to receive one of the following mobility allowances benefits and you must have at least one year remaining on the benefit scheme. Unfortunately, the Attendance Allowance benefit cannot be used to lease a car with Motability.
Enhanced Rate Mobility Component of Personal Independence Payment (ERMC PIP)
Higher Rate Mobility Component of Disability Living Allowance (HRMC DLA)

Higher Rate Mobility Component of Child Disability Payment (Scotland)

War Pensioners' Mobility Supplement (WPMS)

Armed Forces Independence Payment (AFIP)

Final Thoughts
We hope you have found our guide on How to Choose the right mobility car for you useful. For help selling your mobility car, please visit our website as we buy cars and we buy vans quickly and efficiently from the comfort of your home or workplace, all free of charge.